Leather Chairs of Bath is a family-run business, established in October 1988 by Nick and Sara Loxton. We have been making hand-dyed leather furniture for 25 years.  Using very traditional upholstery standards, we create leather sofas and chairs that, once broken in, look as though they could be antique.
After 18 years in Bartlett Street in the centre of Bath, we moved, in 2006, to a new showroom on London Road, 1 mile from the heart of the city.
In July 2012, we decided to move the business in to the heart of London's Chelsea Design Quarter, close to the Design Centre in Chelsea Harbour, on the King's Road, SW6.
But in June 2016, Leather Chairs of Bath will be opening a new shop in Bath having closed recently in London.
See what you missed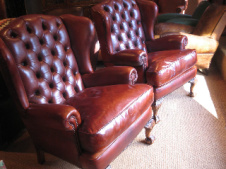 Subscribe to our free newsletter
for all our latest news